'Baby Blood' Movie Review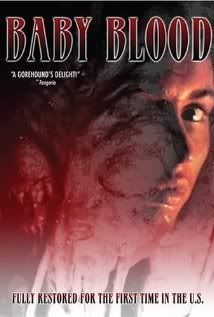 by Michael Sieber, MoreHorror.com
Yanka is a deeply depressed circus performer who suffers at the hands of her abusive boyfriend. To make matters worse, she discovers that she is pregnant.
One day, a new leopard is delivered to the circus, but during the night, a creature bursts out of the animal and makes its way to Yanka's room where it enters her body and takes over her baby. Yanka knows she has to get away from the abuse, but once on the run, the creature begins talking to her, and demanding that she kill and drink the blood of her victims so that it can grow. At first, Yanka is reluctant, but she soon finds out that this creature has the power to cause her tremendous pain, so she eventually complies. This leads to a love/hate relationship between Yanka and the unborn monster inside as she goes on a murder spree to satiate the creature's lust for blood.
Baby Blood (also known as The Evil Within) is a French horror film directed by Alain Robak and stars Emmanuelle Escourrou as Yanka. While the first hour moves fairly slowly, things really pick up in the second half as Yanka becomes a more prolific killer. It's an exploitation flick to be sure, but one could argue that it does have some pro-feminist overtones because most of the men in Yanka's life just want to use or abuse her, and this is her way of turning the tables by reducing them (literally) to nothing more than pieces of meat. It's a flimsy argument, but hey, I'll buy it.
While the story of an evil baby growing inside of a woman has been told before, Baby Blood is surprisingly well done. There were a few points during the movie where I questioned if Yanka really had been impregnated with an evil creature or if she was going mad. And although the movie is in French, (there are dubbed versions available) I found the dialogue between Yanka and the creature to be somewhat humorous.
While the film does play out mostly as a somber psychological thriller, Robak is careful not to take everything too seriously. Many of the kill scenes are graphic, but over-the-top in terms of blood and gore that you half expect the director to look into the camera with a wink and a big thumbs up.
Like many of these exploitation films, there are plenty of WTF moments, but all in all, Baby Blood is a fun ride with a decent story, solid performances and plenty of splatter to keep everyone happy. Highly recommended.