'The Cabin in the Woods' Film Review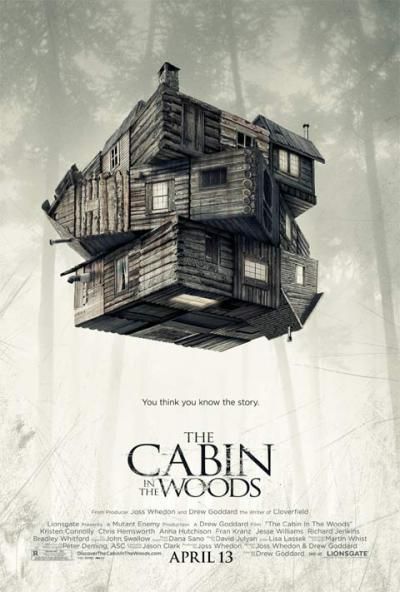 by Jason Lees, MoreHorror.com
First off, to be honest, I had no interest at all in seeing THE CABIN IN THE WOODS. None. Zilch. And I had a very good, and very petty reason for not wanting to. It's not that I don't dig on Joss Whedon (I'm not a card carrying Whedon-phile but I did really like FIREFLY) and it's not that I don't like original horror movies. I do and I try to support anything hitting theaters that doesn't have a Roman Numeral in the title or isn't a remake, but CABIN had only one big strike against it for me. When I first heard about it I thought it was WITHIN THE WOODS, the short film Sam Raimi made to promote THE EVIL DEAD, and it was finally getting past its rights issues and being released. When I read a little further and realized that this was a completely different enterprise, like an idiot I just lost all interest.
And like an idiot I almost missed out on one of the best genre flicks we'll probably see this year.
THE CABIN IN THE WOODS is sort of a finishing touch, a cleanup crew, of horror movies. It's not going to reinvent horror (although it's getting credit for that) but it's also not going to finish the genre (and I've heard plenty of blame being put on it for that, too). What it does is really examine the cinematic horror tale from the vantage of the fans that go to see the movies, not the casual moviegoer, but the hardcore devotees who know and followed my silly Raimi rantings from above.
Another thing CABIN does is become the epitome of the film that doesn't want you to do anything to describe it plotwise. Unlike other films in the "ToSayMoreWillRuinIt" Club like the CRYING GAME or THE SIXTH SENSE, saying too much won't ruin the flick, but it will ruin the punchline. Anyone readin MoreHorror is probably going to already have some of that ruined for them by now, but let me just say that once you get past any big reveal, there are still tons of golden goodness in CABIN to make it well worth your time.
CABIN delivers a story, and a mirror, to all the films of the last twenty years who set out to shock and thrill us. It does not, however, put the final nail in our corner of filmdom. Horror will keep coming, unchanged with as many hits as misses, but from now on we'll be able to see one of those misses and point to CABIN and say, "see,… I told you so."
The Cabin In The Woods is another great Joss Whedon movie.