'Dexter' Season 6 DVD Box Set - Review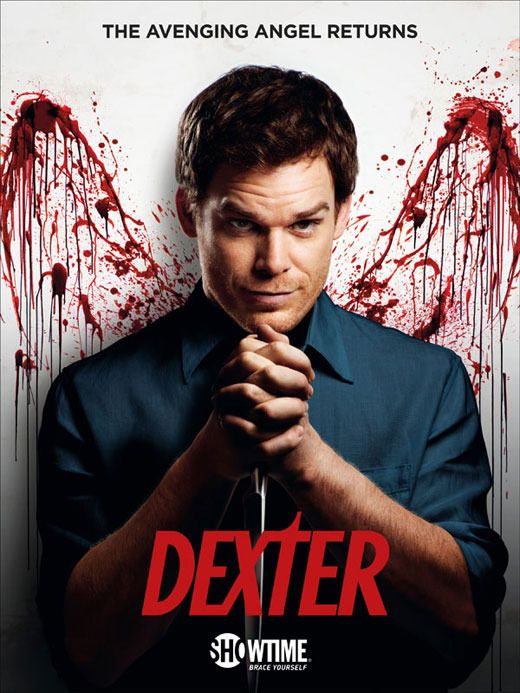 by Shannon Hilson, MoreHorror.com
I've been a pretty faithful Dexter viewer ever since the series first premiered years ago (where does the time go). However, I hadn't gotten a chance to see Dexter Season 6 yet, so I was naturally really excited to get a chance to review the box set. I've been wondering what my favorite serial-killer-with-a-double-life has been up to since the last time I checked in on him.
For those of you unfamiliar with the show, that's pretty much the premise. Dexter Morgan (Michael C. Hall) plays a dark and mysterious, yet likeable Miami Metro blood spatter specialist who also struggles with the dark urge to murder people. The twist is that Dexter has a conscience, so he murders only according to a code of honor that finds him targeting evil doers instead of innocents. All of the previous five seasons of the show follow Dexter's adventures, struggles, triumphs, and near misses as he works to balance the two conflicting halves of his life. Season 6 is no different in this regard.
Also like previous seasons, this one finds Dexter investigating a new serial murder spree that has Miami residents living in fear. This time, issues of religion and faith are at the center of the spree as the killers work to bring about the end of the world by reenacting a series of biblical tableaux in gruesome (yet oddly artistic) ways. And who are the killers? An aging spiritualist (Edward James Olmos) and his young, timid protégé (Colin Hanks) this time around. Also joining the cast this season is the always interesting Mos Def as local preacher-with-a-past Brother Sam.
The fact that Dexter stuck to the formula for a sixth season in a row is something that I think I'm beginning to have a love/hate relationship with. Don't get me wrong! The show is still riveting and it still has the ability to surprise and intrigue. However, it's starting to get a bit more tired than I'd like, especially since we're getting to a point where some ever-so-slightly implausible writing shortcuts are being taken in order to maintain the status quo.
For instance, Angel Batista's young sister (Aimee Garcia) now conveniently lives next door to help explain how Dexter is able to juggle single fatherhood to a toddler with not only his demanding day job, but also his nightly stalking missions. She appears to have zero life whatsoever and is magically always available to babysit young Harrison whenever Dexter needs to bounce and get 'er done, day or night. I would have preferred to see Dexter's role as a single parent better integrated into his very unusual life at large, as opposed to merely shunted off to the side this way.
The relationship between Deb (Jennifer Carpenter) and Quinn (Desmond Harrington) is also suddenly on the rocks to eventually facilitate another plot twist – one which I will not elaborate upon beyond saying I'd personally rather they hadn't gone there. There are other examples as well involving other characters and plot points. None of this ruined the show or anything. It's just that stuff like that tends to irritate me even when it doesn't exactly spoil the integrity of the overall plot.
I also am not sure that the crime spree du jour (or the killers themselves) were really taken to their full potential writing-wise either. Edward James Olmos felt almost under-utilized, as I know what he's capable of bringing to the table as an actor… and while I enjoyed Colin Hank's performance as his protégé, he never quite delivers for me in the way I kept waiting for. I did feel that Mos Def knocked his performance out of the park as Brother Sam though and I considered that character to be a huge bright spot and point of interest this season. Also, the visual interest and biblical spin attached to the killings kept me really intrigued and eagerly watching from episode to episode.
As far as the premise and big picture for the series at large goes, Season 6 makes me wonder how many really good seasons we really have left for Dexter. It hasn't jumped the shark yet… but the way the season left things (especially in regards to the big cliff hanger at the end) has me wondering when it's going to happen. I really hope I'm wrong about that, because I love this show to death. This season is still very good and very much worth watching, especially if you're a big fan of the show already… but yeah.
As far as the box set itself, it's no doubt a great addition to your collection if you're a Dexter fan. However, I have some criticisms there as well. First of all, if you have not seen this season yet – for the love of God -- cover your eyes during the Showtime ad that it makes you watch every, single time you insert a new disc. They show you the biggest spoiler in the history of spoilers as far as what happens in the finale of this very season as part of it. (I say cover your eyes because you cannot simply skip or fast-forward through the ad.) Also… really? I have my own copy of the retail discs and I have to watch a long commercial multiple times throughout the process of enjoying them... without being able to forward through it or skip it whatsoever? I'm not sure I like that much, Showtime. Just saying!
Also, I had issues getting the closed captioning to work properly because of the way they had it encoded in the DVD discs this time around. This is despite the fact that I used two different players and two different laptops to watch various episodes of the season. That's probably mostly me nitpicking, but I'm one of those people who really likes to read the captions while I watch, so I would have liked that to go more smoothly. Maybe if you have one of the latest players out there on the market, it will work for you, but I wouldn't hold your breath if yours is more than a year or so old.
Beyond that though, it's a great set. I would definitely say it's worth buying -- especially if you're a fan or a collector who appreciates having good quality copies of your discs and extras to look over -- despite those couple of things. You can get a copy of your own this coming Tuesday (August 14th). Look for it at a retailer or video store near you!