'Dream House' Movie Review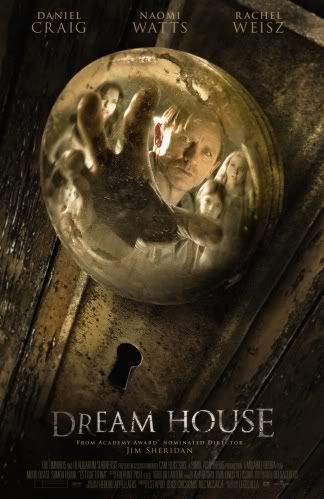 by Jamie Zaccaria, MoreHorror.com
The first thing I want to say is that if you plan on seeing this movie avoid the trailers as they give away too much of the film, and even the major twist. That being said, if you have already been unfortunate enough to have been spoiled by the trailers, all is not lost. There is still more to be seen and revealed. (Shame on you Universal for putting out spoilery trailers, shame shame!)
Dream House is about a couple (Daniel Craig and Rachel Weisz) who, along with their two young daughters, move into a new house after Craig quits his job to work from home. They soon find out that all is not right with the house and it has a gruesome history. I won't say much more than that so as to not give anything else away. Naomi Watts also stars as the couple's apprehensive neighbor.
The best thing about this movie by far is the chemistry between Craig and Weisz, which makes sense since soon after they ran off and got hitched (Mazeltov!). Their relationship is believable, which can make all the difference in a movie like this. The two young actresses who play the daughters also add to the family feel of the movie. Watts is good too, even if her hairstylist needed to be fired.
I feel like there were different directions the plot could have gone in, and this kept me guessing as I hadn't watched the aforementioned trailers. My personal preferences might have liked it to go a different way, but the plot was indeed intriguing and I didn't see some of the twists and turns coming.
That being said, Dream House is sort of like two different movies. The first half is a horror film but after the big twist, it becomes more of a thriller. The movie wasn't perfect, but it wasn't as bad as it could have been. I think the movie is better than most critics give it credit for, definitely worth a one-time-watch, even if you wait until its home video release.