'Frankenhooker' Blu-Ray Review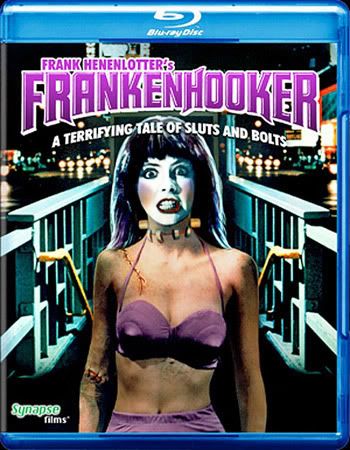 by Colleen Wanglund
Frank Henenlotter's comic take on Mary Shelly's Frankenstein has finally been released on Blu-ray thanks to Synapse Films.
When Jeffrey Franken (James Lorinz) loses his fiancé Elizabeth Shelly (Patty Mullen) to a horrible mulching accident at a family birthday party he becomes obsessed with bringing her back. An amateur bioelectric technician with dreams of grandeur, Jeffrey gathers the pieces of Patty's mutilated body and sets his twisted plan into motion.
Jeffrey needs some fresh parts to add to the pieces of Elizabeth, so armed with a "special" drug Jeffrey makes his way over the bridge and into Manhattan where he lines up a party of hookers. All he has to do is pick the best parts of each girl. No problem, right? The party swings into high gear but Jeffrey begins to have doubts about what he's doing. It's too late, however as the hookers, after partaking in Jeffrey's magic drug begin to explode into the very pieces he needs!
Heading back to Jersey with his ill-gotten contraband, Jeffrey embarks on his experiment…bringing Elizabeth back to life. Things don't go as planned when the newly resurrected Elizabeth heads to the city to satisfy the needs of her new body. She needs to turn tricks. As if that wasn't enough for Jeffrey, the dead hookers' pimp is hot on his trail. The confrontation with the pimp and the twist ending are truly priceless in this over-the-top horror comedy.
Synapse Films did a great job on the crisp and clean transfer to High Def. In addition to the wonderfully funny movie, the disc also contains some very cool extras. Having interviewed Frank Henenlotter a few months back, I can attest to the fact that he has some of the best stories to tell. Listed under the "set up" choice as opposed to the "extras" listings, the audio commentary is worth the price of the disc alone. There is also the theatrical trailer that riffs on the old Universal monster movies.
Extras include:
A Stitch in Time: The makeup Effects of Frankenhooker is chock full of behind-the-scenes video and stills of the work done by Gabe Bartalos and he discusses in detail the effects employed in the movie.
Turning Tricks is a cool interview with Jennifer Delora, who played the hooker Angel and Jennifer Delora's "Frankenhooker" Photo Scrapbook has some nice behind-the-scenes still shots that Jennifer took while filming.
A Salad That Was Once named Elizabeth is a nine-minute interview with Patty Mullen, where she discusses her experiences working on Frankenhooker.
Just get the disc….you'll thank me for it.