'Killer Joe' - Film Review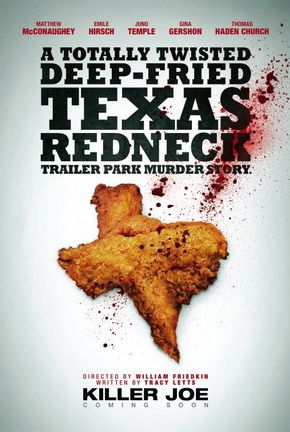 by Shannon Hilson, MoreHorror.com
If you like your dark-spirited movies to strike an excellent balance between depravity, substance, and WTF, then Killer Joe is definitely a film to add to your personal to-watch list for the new year. This is especially the case if you happened to see and love Matthew McConaughey in any of his better suspense projects, such as 2001's Frailty.
Based on Tracy Letts's stage play of the same name, Killer Joe can best be described as a Southern Gothic dark comedy. It's set in Texas and follows the lives of the Smith family – drug dealer Chris (Emile Hirsch), father Ansel (Thomas Haden Church), stepmother Sharla (Gina Gershon) and Chris's odd-duck younger sister Dottie (Juno Temple). When Chris finds himself in terrible debt to loan sharks, he decides that the best solution in sight is to have his mother killed so that Dottie can collect on her $50,000 insurance policy and supposedly use the money to help repay Chris's debts.
Enter Joe Cooper (McConaughey), a police detective who also happens to moonlight as a paid assassin. Naturally, being so deeply in debt means that Chris and family cannot pay Joe his service fees up front as he requires, but luckily (or perhaps not so luckily) Joe has taken a liking to Dottie and is willing to allow the Smiths to put her up as collateral until they can collect on the policy. Killer Joe is the story of the twisted sequence of events that happens as a result.
In Killer Joe, McConaughey proves once again that he's still capable of doing so much more than playing lovable losers in silly romantic comedies. However, his was far from the only performance that made this film well worth watching in my opinion. Every single actor involved in this was terrific in their role, especially Juno Temple. In fact, I would say that her performance as the strange, but good-hearted Dottie was probably the highlight of the entire film. I really do need to give props to Gina Gershon as well though. I've never been that impressed with her in the past, but she really rocks it in this as conniving Sharla.
The writing and the dialogue in this were top-notch as well. Usually with suspense films and murder stories, it's easy for me to predict what's going to happen and how, even if I don't know much about the plotline in advance. However, Killer Joe came equipped with plenty of surprises and made that virtually impossible to do this time around. In addition to the terrific acting performances, there were plenty of twists and more than a couple of "WTF moments" that leave you asking: "Did that seriously just happen?" There was also a healthy dose of subtle humor throughout to help keep the subject matter of the film from being excessively lurid.
Killer Joe definitely has its toe on the line between acceptable and a-little-too-screwed-up (hence its earning that dreaded NC-17 rating before its release), but it somehow avoids trying too hard to be shocking – at least in this reviewer's opinion. I would definitely say it's worth giving a try, especially if you're looking for a Southern-fried murder story that's a little different from anything you've probably seen recently. Grab your Kentucky fried chicken, some cheap beer, and your remote and enjoy the ride!