'Mountaintop Motel Massacre' Film Review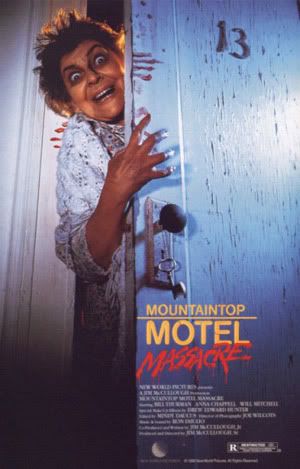 by Christ Wright, MoreHorror.com
Mountaintop Motel Massacre is a classic example of a slasher movie that had so much potential yet it was entirely wasted! I sort of knew what to expect when I heard mundane things about this movie but I didn't expect it to be this riddled with plot holes. New World Pictures released this movie in 1986. My mind was massacred while watching this tedious movie.
The plot begins with an insane asylum patient released back into the world and she returns back to the motel she once lived. All is not well when she "accidentally" kills her girl Lori (Jill King) in a fit of rage. I guess crazed mental patient Evelyn (Anna Chappell) was released too soon it seems? The police let Evelyn off (for reasons that make no sense) citing it was an accident. The kills to come are no accident on her part. The opening of this movie is bizarre. The girl Lori appears mentally unstable herself. She has a rabbit, conjuring up spells, and talking to her deceased Dad. Evelyn rolls in when she is angered that Lori doesn't do what she said and winds up killing the animals and Lori simultaneously. The movie, after this stage, goes down hill fast.
This movie had so much potential. A psyched out mental patient on a rampage in a motel is vintage slasher movie. The movie is derailed with slow pacing, bad acting, and random plots out of nowhere. The movie uses 20 minutes with Evelyn doing "mind games" with her guests with roaches, spiders, and rats. Evelyn's games with her guests come across as mere filler. One huge plot hole is how this small motel has all these tunnels underneath each motel room. How in the world could one older lady do all this? It makes no sense. At the end, we see them all leaving and apparently they see a ghost of one of the dead ones? This also made no sense. The plot in this movie was poorly constructed even for a low budget movie.
Evelyn hacks her way through an old black carpenter, a drunken priest, two horny teenage girls who are sexually seduced by a guy pretending to be their agent along with others. As annoying as half of these characters were, Evelyn hacking them up couldn't come fast enough! Evelyn's reason for doing this is because there are voices in her head telling her to do so. The gore is not too bad though limited. For a movie with a semi decent start premise, it lacks any scares or suspense at all. I could forgive this predicament but there are a lot of low rated slasher movies in the 1980s that pulled off this genre more effectively.
I would recommend Mountaintop Motel Massacre if you are a slasher movie enthusiast and really wish to see it. It contributes nothing to jolt this genre in the slightest. The only modest redeeming factor is that Evelyn is really creepy in this role but the rest is entirely forgettable. I don't think they knew what direction they wanted to go in this movie. It took a few years to even find a distributor! I give this movie 2 out of 5 stars, which is probably generous. It has a 4.0/10 on IMDB.
Mountaintop Motel Massacre (1986)
Directed By: Jim McCullough Sr.
Written By: Jim McCullough Sr.
Starring: Bill Thurman (Rev. Bill McWiley), Anna Chappell (Evelyn), Al (Will Michel), Virginia Loridans (Tanya), Jill King (Lori), Major Brock (Crenshaw), Amy Hill (Prissy), Marian Jones (Mary), Gregg Brazzel (Vernon).