'New Year's Evil' - Movie Review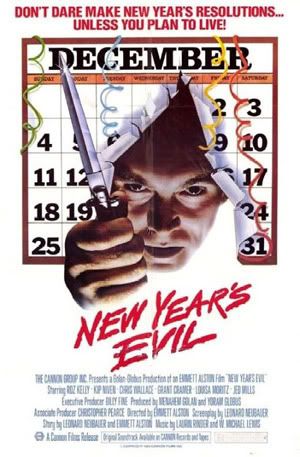 by Chris Wright, MoreHorror.com
Ring in the New Year with this punk rock slasher flick! New Year's Evil is far from perfect and only has a few good moments. I personally prefer Bloody New Year but this, as far as I know, isthe only other New Year's themed horror movie. It's only been released once on VHS and for that reason, is highly sought after by horror movie collectors. Whether this will ever get a decent re-release is unknown, but for slasher fans, this is a must see.
The plot is fairly simple. A crazed person on New Year's Eve wants to kill off people with important connections to the lead character one by one. This occurs at the dawn of New Year's as it relates to each time zone. All the while, he corresponds with the lead through a pay phone using a voice modifier to disguise his identity. Each time he calls, he informs her he has killed another person she is close to as he travels from East to West.
This movie is rather dull to me and features mediocre acting. The constant use of punk rock music just comes out of nowhere and doesn't really add much to the movie but filler. The main character Blaze (Roz Kelly) is played by an older female who doesn't even seem to be scared of the death threats she receives. For instance, in one scene where she finds out who her mysterious caller is, she doesn't even seem mildly scared by his actions.
The crazed character calls himself "Evil" (played by Kip Niven) and is after "naughty" people with the final one being Blaze. I found Kip Niven's acting to improve as the movie progressed after a shaky start. Some of the kills are nothing about of the ordinary. My personal favorite scene is the one where the killer has Blaze hanging from an elevator by the neck while it goes up, as I found it to be quite creative. However, I found it odd that a movie which desires to keep the killer's identity a secret until the end keeps showing his face every imaginable moment.
There is also a twist about why "Evil" is after Blaze, but I could see it coming way before it happened. If you are a slasher fan or looking for a New Year's themed movie, you may like this, but it's not the best out there by any means. For me, this movie is tolerable. It had some decent kills and plot moments, but that's about it really. I give this 2.5 out of 5 stars and it has a 4.1./10 on IMDB.
"New Year's Evil" (1980)
Directed By: Emmett Alston
Written By: Emmett Alston & Leonard Neubauer
Roz Kelly (Diane Sullivan "Blaze"), Kip Niven (Richard Sullivan), Chris Wallace (Lt. Clayton) Grant Cramer (Derek Sullivan)