MoreHorror Chats with Director Nick Simon and Actor Oz Perkins of 'Removal'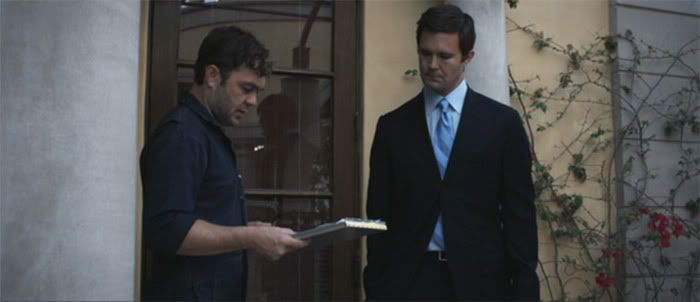 by Shannon Hilson, MoreHorror.com
There's nothing we like here at MoreHorror better than an expertly made film that really covers all the bases and writer/director Nick Simon's feature debut Removal really delivers in this regard. Filled with twists, turns, gold-star performances from an all-around amazing cast, awesome dialogue, and incredible shots, this film is easily one of the best horror films I've seen in a long while. It follows the story of Cole, a carpet cleaner who takes on a rather unusual cleaning job for a wealthy client and winds up with a lot more to contend with than he bargained for.
Writer/director Nick Simon and writer/actor Oz Perkins of Removal were both kind enough to answer some questions for me recently in regards to this very cool film. If you still haven't had a chance to check it out for yourself, catch it today On Demand or on DVD.
........
MoreHorror Exclusive Interview with Nick Simon:
SH: Tell me a little bit about the inspiration for Removal. When and how did you first come up with the idea for this film?
NS: Removal was originally titled Shadow Play and was based on a short film I made at AFI. In fact, most of the same crew that worked on the short came along for the feature. Mark Kelly and Oz Perkins even play the same parts in the short that they do in the feature. Kevin Duggin (DP), Katy Skjerping (Editor), all four of the producers, and myself all went to AFI together.
We had a really great response from the short and (Producer) Chady Mattar came up to me after we graduated and said he wanted to make a feature version of the film, so we all jumped at the opportunity. However, it was quite challenging turning a short into a feature. What works great in short form doesn't really apply to a three act structure. We went through several drafts of the script before we came up with what you see now.
We didn't add the Kershe stuff and the split personality story until it came time to write the feature. Another thing we added in development was the whole killing-your-family thing. I'm an avid news watcher and I remember around Christmas 2008 there were so many stories on the news of dads that lost their jobs… lost the house lost everything and came home and ended it all. I can't imagine anything ever being that bad. It was right around the time the recession hit.
SH: What were the greatest difficulties you faced in your transition from writing/directing shorter material?
NS: I kind of accidently answered this in the first question… At least some of the differences between making the short version of this and the feature. I had some difficulty with the pacing I think. There are always three versions of every movie: the script, the shoot, and the edit. We thought we had a pretty solid script, but then we ended up tweaking a lot in the edit. It's funny looking back now. We had quite a bit of prep time on the film and I don't think it was enough. There is really nothing quite like directing a feature film.
As prepared as you think you are, you are always forgetting something. I think that is why you surround yourself with strong collaborators. I really had a brilliant cast for this film and I can't praise them enough. I had worked with Mark Kelly in the past so I knew what he was capable of bringing. Same with Oz. But working with Billy and Emma was really an amazing experience. They are so good in every scene. I think every moment they are on screen is 100% honest and believable.
We wanted so badly make this movie look bigger than it was but with our tiny, tiny, budget it definitely wasn't easy. We wanted to give it an elegant, 70s look. Very controlled, very precise. That required a lot of expensive equipment like dollies, cranes, and gear heads. It was tough. We had to work incredibly fast because we could only afford some of it for one or two days.
SH: I absolutely loved the gag reel on the Removal DVD. You all looked like you were having such a good time! Tell me a little bit about life on the set.
NS: It was a crazy amount of work… but we really had a good time in the end. If I was lucky, I would get four hours sleep a night for like six weeks. And most of us on this production had relationships with each other before we ever started so that can be both good and bad. But I think we had a lot of fun making it. I remember one night when we were shooting exteriors at the mansion. One of the grips made the "Bat Signal" out of layout board. A pretty known actor was in the neighbor and he called security on us. Let's just say that I think in real life he isn't too different from his character in Aliens.
SH: When did you first know you wanted to work in film? How did you get your start?
NS: In 1981 I saw Escape From New York. I snuck into the living room to watch it on HBO because my parents wouldn't let me watch rated R movies. I saw the poster and it blew my fucking mind. I had to see that movie. It changed my life forever and I'm still a huge John Carpenter nerd. I wouldn't be where I am today if it wasn't for him. I met him once but I was too scared to talk to him so I paid $25 to take a picture with him at a convention. I even have a Thing tattoo on the back of my leg.
I started working in local television in Sioux Falls, South Dakota when I was 16 or 17. I was a camera operator for the news and I quickly realized that wasn't my thing. After that, I worked for a local Fox affiliate shooting commercials – they give you absolutely no money to make those, so I was literally writing, directing, shooting, and editing 100 commercials a year. That's really where I learned to do everything. I won some advertising awards and was recognized by larger agencies and began working with bigger clients and budgets. Along the way, I made some short films and then was accepted into AFI.
SH: Who were your biggest creative influences in regards to your style?
NS: As far as directors – off the top of my head: Alfred Hitchcock, John Carpenter, David Fincher, Howard Hawks, and Billy Wilder. Some films that influence my style are Shadow of a Doubt, Peeping Tom, Psycho, Halloween, The Game, Dog Day Afternoon, and All the President's Men.
SH: What advice would you give someone who's just starting out and looking to make indie feature films? What do you wish someone had told you before you got started?
NS: When I was 14, I worked at a shitty job at a Dairy Queen for 9 months to save money and buy a camcorder to shoot movies with my friends and edit in camera. (Some of those friends are threatening to post these videos up on YouTube.) Now, every computer has editing software and your iPod can shoot HD video. There's no excuse – anybody who wants to make movies, should be making movies. You have to keep practicing and doing it. I think it's great that anyone can have that outlet and I encourage it.
Something I wish someone had told me? Wear comfortable shoes on set.
SH: Nick, I'm very excited to see what you do next! Tell me a little bit about the next project we can hope to see from you.
NS: I can't say too much about it right now, but I'm working on ascreenplay with one of my "Removal" co-writers, Dan Meersand, called Site 146. Silvatar Media is producing, along with Alexandre Aja. Working with Aja has been a dream come true because I'm such a big fan of his work. His passion for the genre is contagious.
........
MoreHorror Exclusive Interview with Oz Perkins:
SH: Removal is a terrific film and I haven't seen one quite like it in a long while. What first attracted you to it as a project?
OP: Initially it was a short film that nick did when he was at school at AFI and I was asked to be in it by Mark Kelly who had met Nick previously. I didn't really know what to expect going into to and wasn't exactly thrilled to be going to work for free on a student movie. At the time it seemed like something I just didn't want to do, but then the experience of making the short was very cool. It turned out pretty well and Nick and I became
friends.
We worked on a few things together -- some spec scripts that we tried to get off the ground -- and then the idea came to make the Removal feature and of course we knew how to do that because we had made the short. We felt like we were sort of like experts on the subject and so it was an exciting thing to be blowing it up into an actual movie. The central conceit of the film stayed the same as it was in the short - overworked and under-rested carpet cleaner goes to mansion and has a rough time -- but we challenged ourselves to come up with a thicker, second layer of material which is what we did with the Kershe storyline.
By giving it that added dimension we found that we could have a much richer thriller as opposed to a one gag movie. We didn't feel like that was enough to hang an entire feature film on and so we added the Kershe character as a way to intensify the experience for Cole and also just to make for a fuller story experience.
SH: Henry Sharpe was one of my favorite characters in the film and your performance really made him everything that he was. How did you go about getting into character and bringing Henry to life?
OP: Like I said, I didn't really want to do the short film in the first place and I kind of acted like a jerk about it (at least in my own mind). I arrived on the set for the first day of shooting and hadn't really learned the part and kind of just didn't give too much of a shit. I'm not proud of that and it doesn't make me sound like an astonishingly professional person but that's where I was with it at the time. And they weren't paying me anyway so I felt like my professionalism was kind of not really the issue.
Anyway I showed up and I just didn't care. I'm not proud of that. It's just where I was at with it and so I pretty much just learned the words not long before we shot the scenes and then just kind of said them. The effect (lucky for me) is that Henry came off as sardonic and like a genuine prick. I never tried to play "crazy" and that's no kind of actor's choice anyway, so I just did it as dryly as I could.
It's funny how sometimes as a film actor one can get away with doing very very little. The camera does the job. I just made sure that I said the right things in the right order and stood where they wanted me to stand. Henry really grew out of all of that.
SH: What was your favorite scene from Removal as far as shooting went and why?
OP: You know, I always just like working with Mark. He and I just have a great time and there were days in there when we just couldn't keep from laughing in each other's faces. It got to the point where each of us knew that certain words would make the other guy laugh. Mark was always trying to say "my gear" in scenes because he thought that would make me laugh and I would call him "guy". Little dumb things like that. When we were doing the scene where he finds my bedroom door locked, I'm a little drunk, and I ask him to help me move the trunks... I felt like I was really in command in that scene and that Mark was just trying to get from moment to moment without laughing.
I liked doing the scene with Kelly Brook. She was very excited to be doing the movie, she loved the script, and I think that Nick and I were totally flattered that this pretty girl liked what we were up to so it was extra nice having her around. She's like a real cultural sensation and kind of dominates the internet, so it was cool, and bubbly, and exciting to have her around. In my scene with her, I get to unabashedly hit on her, so that was easy. She's very precise in her performance, too, and it's always great to be able to count on someone like that. She does every take great and exactly the same every time. You really can't ask for better than that.
SH: Anything else you'd like to tell our readers about life during shooting? I'd love to hear any further stories, reflections, or thoughts you have about the experience.
OP: We all felt lucky to be given the chance to make this thing into a feature and we all wanted to do our best and really bring it to life. There was definitely this sense that we were pretending to be grownups -- like we had made this little thing for no money and now we were making this much bigger thing for almost no money. Because Nick and I had written it, he was directing, and I was starring I think we both felt a pride of ownership and that it was kind of up to us to keep things going in the right direction.
Really, at the end of the day, you kind of want that pressure on you, as it forces you to rise to the occasion and do your best work. We knew that everything that ended up in the movie was going to be either his fault of my fault so we tried whenever possible to ensure that it was all good and right.