'Night Feeders' - Film Review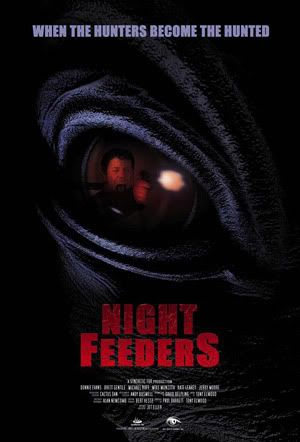 by Jason Lees, MoreHorror.com
I love being surprised, and I also love being proven wrong. Maybe it's part of my sick and twisted mind that just loves being slapped in the face once in a while, or maybe it's just that I really love when a movie comes out of left field and just wins me over, but I love when for no good reason I watch something and just get lost in it, especially when I was so damned sure that it was going to be trash.
Let's face it, those of us that are addicted to our genre have been around long enough to know that even a bright and shiny turd is still a turd, but we all still hope that it'll clean up and be a gem. We get so jaded calling things crap before we give them a chance that it's all we can do to keep trying to watch them sometimes. How many times do we hit play and start to roll our pompous eyes even before the credits start. We know what we're going to see, so we brace ourselves for the garbage about to unspool before us. Pompous. Stuck up. Elitist. That's a good way to describe us horror 'afficianodos' sometimes. Well, like I just said, I love being proven wrong, and I love that slap in the face, especially when it hits so hard that it brings tears to my eyes.
Let's start this review off right by laying the cards out first. I just finished Jet Eller's Night Feeders and I'm still surprised by just how much I liked it. This was fun stuff, well written, with a cast that I honestly didn't want to see get offed and eaten. The film is your basic 'friends in the woods' story with an alien invasion twist. Instead of earthbound monsters, we get CGI creatures that are good and hungry. Now, since we're still on that honesty kick, no, the visual effects aren't that polished. The aliens come off like animatics, place holders for where the finished effects should go. They move and hiss and scream, but still these effects look like deleted scenes you'd find on the DVD.
And guess what? None of that matters, because that's part of the fun.
We get plenty (and I mean plenty) of splatter to gaze at, and I bet the filmmakers could have easily found a way to bring the aliens to the screen practically. We get some pretty convincing gore and dismemberments, a few few nice attacks, and more than our share of blood, so it's easy to imagine what they could have done if they'd chosen to use some of that latex to fashion their beasts. Maybe they should have, but let's face it, if you and I set out to make a monster movie and you wanted to play with digital effects, would it matter if we could do it with rubber? Hell, no, I bet half the fun of making the movie was seeing if they could pull off Dreamcatcher FX for $1.98. And more often than not, they did.
That's the thing about Night Feeders. More often than not, it just plain works. A lot of that credit has to go to the cast. Without letting on who lives and who dies, you'll be pissed when certain characters make their way down those CGI gullets, and that's a damn rarity lately. I can't remember the last time a character got ripped in half in a flick like this that I actually didn't see coming. I love that feeling of 'wtf'. It's why I watch so many hours of movies like this, just hoping to get slapped in the face.
Thank you, Night Feeders. My cheek is still stinging.