'Night of the Hunter' - Movie Review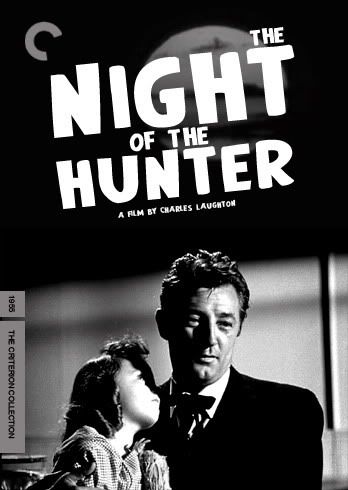 by Jamie Zaccharia, MoreHorror.com
In Night of the Hunter, serial killer and reverend Harry Powell (Robert Mitchum) meets bank robber (and soon to be executed criminal) Ben Harper (Peter Graves) in prison and learns that he has stolen and hidden $10,000. After some dubious sleep talk, Powell hatches a plan to marry Ben's widow Willa (Shelley Winters) and discover the hiding place of the money by secretly interrogating her children, John (Billy Chapin) and Pearl (Sally Jane Bruce).
Mitchum was so unbelievably terrifying that just one of those looks would send me running in the other direction. The religious aspects of the movie are what made it work. No one is ignorant of how religious fanaticism can make men crazy, and Mitchum plays that sort of man with the right amount of subtlety and persuasion. Even just looking at the tattoos of "love" and "hate" on his hands gives me the shivers.
While Night of the Hunter doesn't have tedious amounts of gore, it nevertheless scares its audience using fundamental fears; children who can't trust the adults in their lives, religion gone sour, and those who think nothing of taking another's life. The innocence of the children (especially Pearl) provides a stark contrast to the diabolical nature of the crazed preacher. Another striking opposite of the murdering reverend is Rachel Cooper (Lillian Gish), a strong but gentle old woman who takes in children who need to be cared for. While Mitchum plays the perfect villain, Gish plays the perfect heroine (and reminds the audience that strong religious beliefs aren't always scary).
Anyone who could so callously attack children is beyond villainous and I wonder how this movie was received in 1955, when moral standards were higher. Night of the Hunter reminds me why I stay far away from religious fanatics, but it also manages to remind me that there are good people in the world. A fantastic movie, but if you can be impatient with old horror, you may want to wait until you have the time to sit down and take it in.