'Night of the Vampire' (Owen Mulligan, 2011) - Review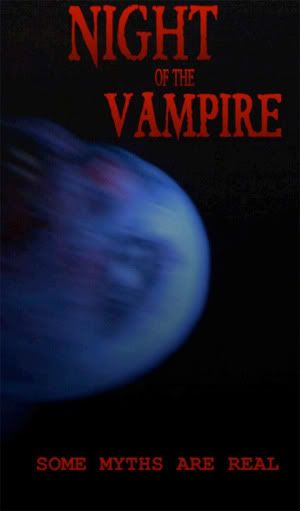 by Jason Lees, MoreHorror.com
What can you get for 400 bucks? You can fill your fridge and cupboards for a month, or maybe pay the rent depending on where you live, but if you're director Owen Mulligan of DeadFi Productions you can make yourself a pretty decent short film.
With a price tag that's about what you'd expect to pay for a decent secondhand laptop, Mulligan and crew has made a nine minute vampire version of The Blair Witch Project, and that's not condemning it, that's praise.
At nine minutes "Night of the Vampire" is in and out fast enough to get the job done and deliver a nice jolt or two.
Yes, it's nothing new as far as found footage flicks go, but where most of these fake docus go wrong is in showing too much or too little, this one impressed me with knowing where the line was.
It's rare to watch a short that has some sharp production value that knows how to hold back a little and tease its audience. It has to be tempting to show the viewer all that they can do, but it takes some restraint to show us only what we need.
As far as teases go, I'd be willing to take in DeadFi's next production, and if you're lucky enough to be at a festival that's playing "Night of the Vampire," give it a chance. Sure, the title might be a little blah, but that's the only complaint I can think of for this little flick with teeth.
Check out the film for yourself below.