'Nightmare on Elm Street 2: Freddy's Revenge' - Movie Review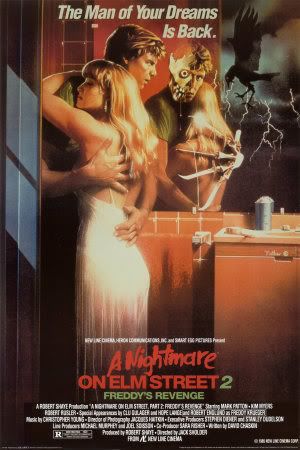 by Chris Wright, MoreHorror.com
This is the "Nightmare on Elm Street" franchises movie that people love to bash and hate. Holy exploding birds - people hate this movie?! There are various reasons as to why. Some people's reasons are valid and others are only valid if you are uncomfortable with certain subject matter. First released by Charles Band's Media Home Entertainment and featuring awesome poster and marketing designs, this Nightmare on Elm Street 2: Freddy's Revenge is a personal favorite of mine.
Freddy haunts the dreams of a teenage boy (Jesse) in the same house where he hounded Nancy in the original movie. What makes this movie different from its predecessor is that as the movie progresses, Jesse finds himself physically in the places of the crime. This concept also deviates from Freddy entering each persons dreams and killing them alone. Freddy's goal is to invade the dreams of Jesse alone in order to slowly take over his body as his own personal vessel.
The strong points of this movie include the eerie musical score delivered by Christopher Young. The family is also fairly believable as a typical middle income family. Jesse is convincing as a teenage boy in distress as he battles the notion that he is slowly going insane with Freddy taking over. The pairing with Lisa makes a great couple in distress as they slowly fall for each other as well.
And now on to the part everybody is waiting for, Freddy himself. I venture to say Freddy is at his scariest in this movie... even over the first movie. All the installments after this one slowly progressed into part-time comedy but not this one. The way they did the lighting around Freddy's eyes gives him a truly demonic stage presence! The way the production staff modified Robert Englund's voice in this incarnation as Freddy is also menacing. Because of details like this, I feel this movie presents the scariest version of Freddy.
One stand-out scene that everybody remembers is the pool scene where Freddy surfaces outside of Jesse's body and goes crazy on the teens having a pool party slashing them to bits with everything going haywire! Other highlights include Freddy slashing the gym coach in the shower, stripping him naked, and slashing him with a wet towel only to finish by shredding his back with his hand claw and the scene where we see Freddy surfacing out of Jesse literally in front of his high school friend Ron Grady killing him as well. Jesse sees Freddy in the mirror laughing at him in a sinister way while Jesse freaks out knowing he killed his friend. And I certainly can't forget the opening dream sequence of the bus balancing on rocks while Freddy comes after the teens either.
Common criticisms for Nightmare on Elm Street 2: Freddy's Revenge include the fact that Freddy is not killing in dreams, but using Jesse to perform the kills for him. While this may deviate from the first film, the second installment does a great job of making this a convincing way for Freddy to kill and slowly drive Jesse insane. A second criticism from many is the homo-erotic subtext. However, I do not see this as a valid criticism at all unless some of the undertones personally make you uncomfortable. It's a contradiction for a horror fan to be made uncomfortable by a horror movie. Isn't part of the point to BE uncomfortable?
This film is by no means perfect but it gets the job done and I hope fans give it a second chance. Freddy isn't flying on a broom if that makes people feel better. I give this movie 4.5 out of 5 stars despite an undeserved 4.9/10 on IMDB. Highly recommended.
Nightmare on Elm Street 2: Freddy's Revenge (1985)
Directed By: Jack Sholder
Written By: David Chaskin
Starring: Mark Patton (Jesse Walsh), Kim Myers (Lisa Webber), Robert Rusler (Ron Gady), Robert Englund (Freddy Krueger), Clu Gulanger (Ken Walsh), Hope Lange (Cheryl Walsh), Christie Clark (Angela Walsh), Marshall Bell (Coach Schneider)