31 Days Of Horror For October - Day 7: Prison (1988)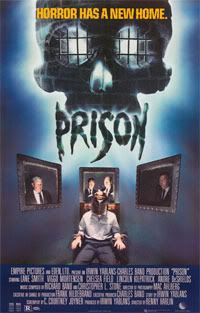 I had always been interested in checking out Renny Harlin's early work, however I just had the most difficult time tracking stuff down (Elm St 4 aside). But as luck would have it, during my rummaging for films, I came across Prison (1988) and I picked it up immediately. The only thing I knew about the film, aside from its director, was that it was also an early film for one Viggo Mortensen.
The story is as you might imagine is set in a prison. This prison housed a prisoner Charles Forsyth, who was executed for a crime he did not commit. The prison gets reopened, with a new Warden Eaton Sharpe (Lane Smith), who was a former guard at the prison, and seems to suffer nightmares over the execution. Once reopened, the angry spirit of Charles is released, and bodies start showing up.
Prison (1988) was an entertaining flick, it had an interesting storyline, a collection of unique and memorable characters, and one pissed off spirit who took about killing people in some very inventive ways. For a small budget, the film managed to look pretty slick and stylish. The FX was really well handled, as was the blood and gore work. After seeing this, it is not difficult to see why those at New Line showed interest in Renny for Elm St 4.
The prison itself looked like a hellhole, one of those places where no person should be forced to live out their days. It was a great location, and it really became a character all of its own. Having a nasty spirit being loose was also rather neat, and trust me this is a heck of a lot better than Wes Craven's Shocker (1989). I was impressed by the look of the film, and how expertly shot it was. I really liked the way the murders were handled; they were shocking, inventive and hard-hitting. The mystery of it all was nicely played, while the twist wasn't exactly a surprise, it was unravelled in a great way.
I was giddy with excitement when I saw that Lane Smith was in the film, I have always been a huge fan of the man. Seeing a role that I was not familiar with was an absolute joy, and he was fantastic here. He played the villain part well, but also had a softer side in regards to the nightmares. What a great talented he was, I miss the man and may he RIP. As I mentioned this was also an early film for Viggo Mortensen, and he was really great here as Bruke. He had this look about him, a cool cat but a badass. Signs of pure greatness were starting to show through, I really enjoyed his work in this. The other prisoners were good, but not as memorable, the focus was on Burke and Viggo just drew it all in. Chelsea Field wasn't bad as Katherine the lady from the board; she was really there to help move some plot elements along.
Overall this was a fun little film, a hidden gem from the late 80's. I am really glad I found it and added it to my 31 Days Of Horror for this year. It really is wonderful to find films like these, and discover new things.
3.5/5