31 Days Of Horror For October - Day 11: Sisters (1973)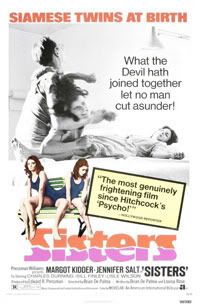 Brian De Palma is a director who seems to have lost his way with the more recent films of his. But to go back and see the beginnings of such a greatness is the quite the experience. Sisters is one of his earlier works, a Hitchcockian style horror/thriller and easily one of the best films I have seen from him. Watching the film now, I can feel the influences it has had, not sure how this missed my radar until now but I sure am glad I found it.
Margot Kidder stars as Danielle, a young and beautiful woman who lives in a Staten Island apartment and works as a model/actress. After an appearance on a TV show called Peeping Tom, she goes on a date with someone else who appeared on the show. They are followed by a man who she says is her ex-husband, and then head back to her apartment. It becomes clear they are not alone, and Danielle says that her twin sister is staying with her for their birthday. The apartment soon becomes the scene of a murder, witnessed by neighbour Grace. The police don't find anything and Grace (a reporter) is determined to get to the bottom of whatever is going on.
A bit of a long synopsis but that does not really even scratch the surface, as Sisters had a lot going on and I sure don't want to spoil anything for those who have not had the pleasure of seeing the film yet. I mentioned that this was Hitchcockian style, I wasn't lying, the film is part Psycho, part Rear Window but with that De Palma flair that made him stand out as a filmmaker. Much like in Psycho, the film features a death by stabbing and the feel of the film changes. The main character becomes a side one as we're then taken into Grace's world and go with her on the investigation. There is a huge element of voyeurism here as well, and it was very reminiscent of how Hitchcock played it in Rear Window.
I absolutely loved the performances here, with Margot Kidder for me stealing the show. I am mostly familiar with her stuff post Superman, and this was a great surprise. She was fabulous, carrying the film wonderfully from the beginning and then become a source of mystery through out. Her dual performance as the sisters was stunning, she really became two different people with striking changing's in personality. If you have ever doubted her ability as an actress or wonder she scored the role of Lois Lane this should fix that. Jennifer Salt was also great as Grace; once the film began to focus on her she also carried it nicely. Her sense of determination to solve this mystery was well portrayed. The two women played off each other nicely, and really it was a great combo. Bill Finley was quite creepy as the ex husband, he certainly gave me the creeps. Charles Durning was quite good, as were Lisle Wilson, Mary Davenport, Barnard Hughes and Dolph Sweet.
The film comes from a time when medical advances were not where they were at today, so it was quite interesting to see an older taken on the conjoined twin phenomena. Audiences weren't quite ready for it when films like Freaks featured the real deal, and the change in how the public received things in the late 60's and early 70's is quite interesting to consider. Sisters was a film that while the idea seemed dated, the execution of it all did not and it would pay some filmmakers well to go back and watch these types of films and see how to play the genre well.
It was expertly shot; it was very precise in what it showed and what it didn't want the audience to see. The element of voices from another room was done perfectly, with the reaction to them feeling very natural. The dual shots were handled exceptionally well; showing the different events taking place at the same time in real time for the most part was a great-added bonus. More recently the technique was used in the Spanish horror film Kidnapped, but the way it was done here was masterful.
Over all Sisters was an excellent film; I really did not have many faults. I was taken aback when it changed gears but I quickly adjusted. Brian De Palma was absolutely fantastic back in the day, a filmmaker whose work is worth revisiting often.
4/5