'Pick Me Up' -- Masters of Horror Episode Review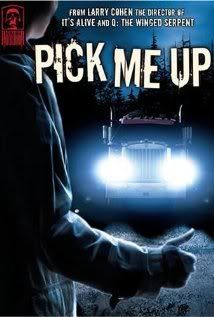 by Emir Husain, MoreHorror.com
When I first heard about Showtime's Dexter, the series reminded me of director Larry Cohen's Pick Me Up (2006), the eleventh episode of Masters of Horror (an anthology series featuring the original works of horror writers and directors, by Showtime again). Admittedly, I've never watched Dexter, and haven't read any of the associated novels. No matter, the contrast between its concept and that of Pick Me Up is as sharp as any horror-thriller knife.
The Cohen-esque imaging, for its part, doesn't envisage a "good" serial killer tracking, only death-deserving baddies. Tout au contraire, it visualizes recreational murderers fighting over their innocent human quarry--amid equal-opportunity killers taking their grisly pleasure with all and sundry.
A novel idea of its own, to be sure, even if more realistic (frighteningly), but certainly not one romanticizing homicidal maniacs, or letting us off the hook for it. Such monsters are simply allowed their own respective notions of fair game, however twisted and nefarious.
As for the story itself, three main characters cross paths to form a fateful trio against an isolated sylvan backdrop reminiscent of -- perhaps -- upstate New York or the Pacific Northwest (a setting at least partly filmed in British Columbia, either way). They are Stacia, a bus-faring, ruggedly independent young divorcee (played by The Craft's gothy, multi-ethnic Fairuza Balk), and her two dueling stalkers, Walker (Warren Kole), a twenty-something, not-so-good-ol' hitchhiking Texas(y) country boy (complete with duster and cowboy garb); and Wheeler (Michael Moriarty), a trucker in his sixties with an accent, mannerism, appearance and vibe suggestive of a psycho Archie Bunker, methinks.
In fact, the similarities seem to be by design, given that Pick Me Up is a veritable medley of pop-culture references, both retro and horror, even if most are too old, obscure or subtle to resonate with general audiences. This Xer/boomer/ancient only unearthed many of them after light research. Nevertheless, the episode is rich with other kinds of symbolism.
The most obvious examples would be the names of Stacia's stalkers, which describe their respective MOs for finding victims. The normally pedestrian Walker slays drivers and passengers of vehicles on which he's picked up, whereas Wheeler dispatches whoever bums that trucker a ride.
Stacia, as a footloose wayfarer from the chartered bus after its breakdown, is the sole travel member skirting either eventuality, only to become a legitimate target for both killers, consequently.
And talk about going after the girl! The two pursuers are devoted to Stacia not being the proverbial "one who got away," and neither will concede losing the lass to the other. A macabre love triangle, you might say.
Thankfully, whether that's indeed a theme, Pick Me Up doesn't resort to any depictions of female characters as objects of sexual abuse, really (at least in my opinion). It simply isn't required, and that goes to show the efficacy of resourceful storytelling.
In any event, before revealing (more) spoilers or waxing even more wonkish here, I would simply say that solidly professional acting, faultless production values, panoramic yet dynamically framed cinematography, well-paced suspense (built up with help from a low-key yet captivating score), frequent noir humor, limited torture porn, zero sexual violence (arguably) and a helluva surprise ending combine to make this Masters of Horror episode a fun li'l drama.
The only major caveat I have about Pick Me Up is toward the end. It's something I didn't notice the first time around, or before delving into this review, thereby putting me in an awkward predicament in following through. Namely, to some of us horror enthusiasts with religious sensibilities, personally (as chimeric a species as that sounds), it's an instance of blasphemous profanity.
Granted, among all films, horror movies--not to mention the horror genre across all entertainment and the arts--are not for those "easily" offended. If I may nevertheless quickly offer my two cents about appropriate content.
In ultra-hardcore works such as, say, NEKromantik, Men Behind the Sun, and A Serbian Film, for all their vulgarity, vile imagery and appalling subject matter, prospective viewers at least have some idea of what to expect, the better to brace themselves if taking any of them in, and opt out anytime along the way. However, in the production of relatively mainstream fare such as Pick Me Up, the deepest sentiments among more general, unwary audiences should be taken into account. It's simply a matter of ethics.
Anyway, it should go without saying that no calls for any kind of censorship are being made here.