'Rabies' Film Review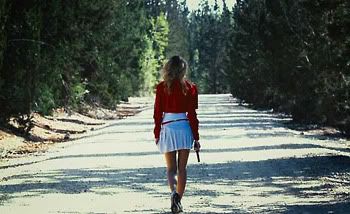 by Shannon Hilson, MoreHorror.com
Saying that I didn't know what to expect from Rabies when I first got it for review is really the understatement of the year, because it represents a real first for me. I'd never – to the best of my knowledge – seen any Israeli films before and I feel quite confident in saying that if I have, they were probably not slasher films. I was pretty much prepared for anything. However, I don't think I was truly prepared to see a film that was quite this intriguing and well thought out as this was.
Out of the gate, Rabies seems like it's not going to cover anything that's so new it's mind-blowing. You're introduced to a series of different character groups and they all appear to be in a situation that's all too familiar if you're in the habit of watching many slasher films.
For instance, one of the main groups is made up of four young people who wind up stranded on their way to a tennis tournament. They all fit certain clichés. There's Pini (Ofer Schechter), the one that can't stop talking about sex; Mikey (Ran Danker), the prepster; Adi (Ania Bukstein), the temperamental one who may or may not be a lesbian; and Shir (Yael Grobglas), the token timid blonde. You also cross paths with two cops who have issues of their own, a park ranger and his paramour, and a completely crazed guy running around with a knife – all archetypes that will seem familiar.
Don't let any of that fool you though! The way Rabies was handled was quite fresh and I appreciated the way writers/directors Ahron Keshales and Navot Papushado put this together. It's not all stalking, slashing, and blood like I expected, although there is certainly plenty of that. There's some terrific suspense build-up in some of the scenes as you watch this strange afternoon play out for these characters. You also never know quite what you're going to see at a given time. Sometimes the film cuts away from a very tense situation only to come back to it after whatever happened finished hitting the fan, leaving you to piece the details together by yourself. Other times, you're given a bloody or shocking pay-off when you seriously didn't expect one. There's even some very wry humor mixed in for good measure. This really kept me on my toes, as well as completely glued to the screen.
The character development is also excellent in this. When you're first introduced to each of the players, you write them off almost immediately as shallow creations that aren't worth thinking about, caring about, or investing your emotions in. However, you are quickly shown how wrong you are. As stereotypical as each definitely happens to be, each is also written as a complete human being. You get little glimpses here and there of what their lives were and are like outside of this little pellet of time you're seeing. When and if anyone bites the dust, you genuinely feel something… even for some of the less likeable characters. However, well-timed doses of comedy help keep you from taking things too seriously.
The fact that every last one of these actors was amazing in their roles certainly didn't hurt either! I especially enjoyed Yael Groblas as the innocent, vulnerable Shir and Ania Bukstein as sharp-tongued, fiery Adi.
Overall, Rabies reminded me a bit of something an Israeli version of Tarantino would put together. The pace, writing, and intriguing mixture of dark comedy with violence is what really makes this work, as does the creative treatment of clichés to actually enhance the story. It's not hard to see why this generated so much buzz and picked up so many kudos. I actually can't recommend it highly enough. Rabies is everything even the most discriminating horror fan could hope for in a film. I sincerely doubt you'll be disappointed in it!