'Run Bitch Run' Movie Review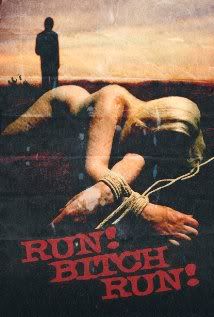 by Michael Sieber, MoreHorror.com
Pure exploitation trash with a veneer of style.
Catholic schoolgirls, Rebecca (Christina DeRosa) and the virginal Catherine (Cheryl Lyone) are selling bibles door to door to raise money for school when they knock on the door of the wrong house at the wrong time.
In the house is gang leader and pimp, Lobo, played by Peter Tahoe who has just shot and killed one of his 'girls' for stealing his drugs. Lobo and his gang kidnap the girls, and Rebecca is killed while being forced to play Russian roulette. Catherine is then taken out to the woods where she is raped and left for dead.
Naked, she eventually stumbles onto the highway where she is picked up by a passing motorist and taken to a hospital. Soon she recovers, and feels compelled to exact her revenge on her assailants.
If you think you've heard this story before, you're right. First time director, Joseph Guzman, is obviously well versed in the roots of exploitation cinema, because the plot of Run Bitch Run borrows heavily from 1978's, I Spit on Your Grave, and while one could easily make the argument that I Spit on Your Grave, while being an exploitation flick, does have a deeper subtext of feminism and the objectification of women, the same can't be said for Run Bitch Run. This movie is pure cinematic trash with no redeeming qualities.
But that doesn't mean it's a bad film.
Well, yes, technically it is a bad film, but I still recommend it, and here's why.
The movie has style. Guzman knows what he's doing behind the camera and he definitely knows what a grindhouse audience wants to see. Although not as polished as the feature that preceded this, Nude Nuns with Big Guns, you can see little diamonds in the rough appearing in this movie.
The first thing that stands out is the soundtrack, and for me, it really saved this movie. The music ranges from guitar driven Mexican rock to blues and even some psychedelic rock thrown in. The choice of music really fit well with the overall look of the film and the locations where it was shot.
While the acting was mostly abysmal, I have to give props to Peter Tahoe, who was absolutely delicious as the slimy Lobo. Some reviewers have compared him to Michael Madsen, but this performance reminded me of a grimier version of Michael Wincott's character in The Crow.
Grindhouse features are noted particularly for being gratuitous with nudity, gore and violence, and while Run Bitch Run features a fair amount of female nudity, I felt it really didn't focus enough on the revenge aspect of the film, and wasn't nearly as exploitative with the violence as it was with the nudity. I don't know why Guzman decided to hold back, except maybe for budgetary reasons, but it would've helped. Most of the violence happens off camera, which seems out of place in a revenge flick, although there is a cringe-worthy scene that is a definite nod to the infamous bathtub scene from I Spit on Your Grave.
Finally, while the film starts strong, it slows down too much in the middle and never really gets going again. Catherine acts mainly as an automaton once she goes into revenge mode, with no dialogue and no emotion, but maybe that was the point. The movie also ends on a very dark note, which is quite a contrast from the aforementioned I Spit on Your Grave.
Run Bitch Run isn't a great example of exploitation cinema, but it is watchable, and it's short enough that it will be over before you get too bored.