Come Be Part of the Scream for a Cause Foundation's Bloodletting Benefit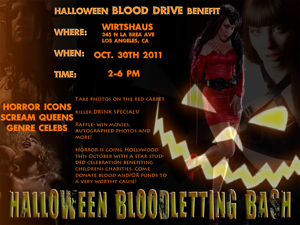 by MoreHorror.com
Looking for your chance to get in the holiday spirit and contribute to an excellent cause all at the same time? Then you won't want to miss the Scream for a Cause Foundation's Bloodletting Benefit. Hosted by one of our favorite scream queens, Devanny Pinn, this event offers horror fans with a heart of gold a terrific chance to have some fun, rub elbows with some super-cool cats from the horror industry, and save a life or two all at the same time. The official press release for the event can be found below.
........
"Scream For a Cause Foundation" presents:
THE (Halloween) BLOODLETTING BENEFIT! Hosted by scream queen Devanny Pinn
LET US SPILL YOUR BLOOD...
Horror is going Hollywood this October with a star studded celebration benefiting childrens charities. Come mingle with celebrities, see horrorific works of art and most importantly donate blood and/OR money to a very worthy cause!
WIRSHAUS in Hollywood has agreed to host our event. They will be in their final week of OCTOBERFEST (yes real german beer- from Germany) and are providing a keg of discounted BEER during charity event hours only. Come out, donate/drink/eat!
This is an all ages event- costumes encouraged!-
If you cannot donate blood we are accepting cash donations. All funds collected will be used to purchase Halloween costumes for the children who will be in the hospital on the big day. Help bring life to those who need it and make Halloween special for children who may not have had the trick-or-treat experience.
any donations big or small are Very welcome.
Filmmakers/Artists/Comic creators/etc: donate your work to be part of the raffle and support the cause! great advertising AND karma :)
WHAT: Bloodletting Benefit- Halloween Blood Drive
WHERE: Wirtshaus 345 N La Brea Ave Los Angeles, CA
WHEN: Oct. 30th, 2011 2-6pm
WHO: Horror Icons, Scream Queens, Genre celebs and horror/good will enthusiasts
SOME OF THE EXPECTED GUESTS ARE:
Derek Mears (Friday the 13th/Predators), Bj Davis (Army of Darkness), Julia Davis (The Terror Within), Brandon Slagle (Kinky Killers), Jordon Lawson (The Rage: Carrie 2), Victoria de Mare (Contagion), Josh Hammond (Jeeper Creepers II), Kristina Page (Alure: Teen fight Club), Bill Oberst Jr. (Scary or Die), Chanel Ryan (Paranormal Wacktivity), Angie Johnson (Area 51 Confidential), Michelle Romano (The Darkness Within), Eric Periera (Piranha 3D), Michelle Tomlinson (Boston Strangler), Jessica Cameron (The Dead Matter), Rachel Grubb (Safe Word), Gerald Webb (A Haunting in Salem), Augie Duke (Bad Kids Go to Hell), Jeff Dylan Graham (Blood Legend), Tawny Amber Young (The Locals), Count Smokula (Troma), Anton Troy (Chillerama), Domiziano Arcangeli (Virus X),, Wolfgang Meyer (15 Till Midnight), Julie Rose (Ding Dong Dead), Luke Barnett (Coffin), Sasha Stuber (Nude Nuns with Big Guns), Kenneth J Hall (Puppetmaster)"