'Silent Night Deadly Night' (1984) - Movie Review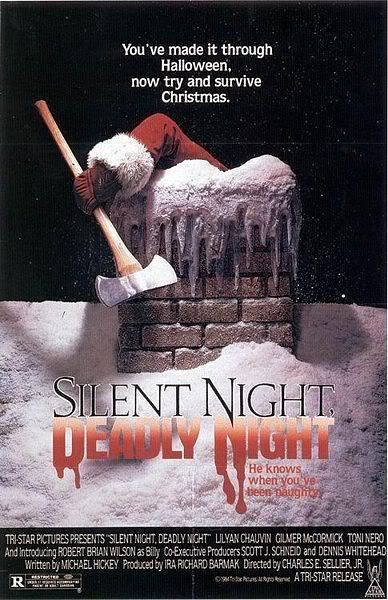 by Chris Wright, MoreHorror.com
Best not find yourself "naughty" in the eyes of Billy because you may not like the end result. Aside from a personal favorite of mine Black Christmas, Silent Night Deadly Night is one of my other top five Christmas horror movies. It is well scripted, well acted, and full of gore. The USA Video big box of this movie is rare and sought after in the collectors market. When this movie was released in theaters in November of 1984, it caused a huge uproar due to the nature of the film. Critics blasted its content as amoral and it was yanked from theaters after a very short time on the big screen. Parents picketed the theaters for this film especially after seeing theatrical trailers of Santa carrying an ax. Oddly enough, this movie out grossed Nightmare on Elm Street in its opening weekend before plunging in the second week before leaving theaters. The film has a cult following and rightfully so.
The plot is a young boy (Billy) sees his parents get brutally murdered in their car when a crazed killer in a Santa suit kills his dad and kills his mother after an attempted rape. What made this scene much worse for him was his grandfather told him Santa punishes those that had been naughty at any part of a one year span. Fast forwarded ahead Billy along with his little brother Ricky are part of a Catholic Orphanage. Mother Superior is in charge and she isn't helping matters being rather tough and mean to Billy. Her philosophy is either be good because if you do bad, you deserve to be punished. After showing a bit of his upbringing, we forward to Billy in his later teen years. The much nicer Sister Margaret gets him a job at a convenient store. As the holiday season approaches, Billy finally snaps.
The gore in this movie is very well put together. Among the gory scenes, we have a nude girl thrown through a wall deer head's antlers. Some other good ones are a decapitation scene as well as a ax through the store owners skull. After being forced to wear a Santa suit, he decides to go after those who are naughty and punish them. And believe me as gory as he gets, they truly get punished.
The characters are all fairly believable. I have a stern hate for Mother Superior. That woman is just nuts in her philosophy as she will literally beat the students if she finds them doing wrong. The actress who plays her is very good at being somebody you can truly hate. You really do feel sorry for Billy having gone through such a harsh childhood and not the best living arrangements at the Catholic orphanage. The music and atmosphere is also at top form.
There are copious amounts of sequels to Silent Night Deadly Night. Unfortunately the worst one is the second one. It truly is awful. The original is nice and lacking of naughty and I highly recommend this movie to any gore hound who isn't easily offended. This movie holds a 5.6/10 on IMDB but I award it a well deserved 5 out of 5 stars.