'Slugs' - Movie Review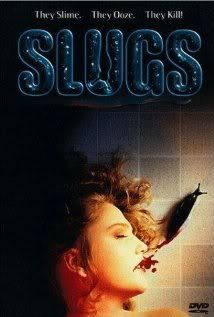 by Michael Sieber, MoreHorror.com
When people begin dying in gruesome fashion in a rural New York town, the local health inspector begins an investigation in which he finds that killer mutant slugs, created by toxic waste, are on the rampage. Naturally, no one believes him, and he's forced to take matters into his own hands as the body count rises.
Slugs is a wonderfully cheesy 1988 horror film directed by Juan Piquer (JP) Simon and based off the book by Shaun Hutson. While you may not be familiar with JP Simon, you are probably at least aware of two of his more infamous films, Pod People (famously spoofed by MST3K) and Pieces, which is a trashy gore flick that happens to be a personal favorite of mine.
Slugs, for me, falls in that category of films that are so bad they're good. It's got terrible acting, (although John Battaglia's totally over the top performance as the cranky old sheriff is a hoot) questionable voice dubbing, and a ridiculous premise. I mean, mutant killer slugs? Really? What it does have going for it is the gore. For such a cheapo flick, Simon stuck in quite a lot of gruesome scenes, like the man at the restaurant who has slugs burst from his eyes.
I suppose that you could argue that there's a message in here about man being more destructive to our environment than the animals, (heck, the main characters blow up the entire town just to get rid of the slugs) but I think you'd be putting more thought into this picture than the filmmakers did.
While "true horror" fans will dismiss Slugs as trash cinema with no redeeming qualities (and I'd agree with you) I find myself drawn to, and enjoying, these movies much more than what would be dubbed as serious horror. Don't get me wrong, I do love thinking man's horror movies, and I do appreciate those that are well done with solid plots, great scripts and high caliber acting, however they seem to be too few and far between. I watch a lot of movies that are supposed to be "the most shocking/disturbing/terrifying," etc, most of which are trite and boring. These low budget schlock-fests are like McDonald's hamburgers. I know there's nothing good in them and they're not good for me, but man are they tasty. And I just can't get enough of them.
Bottom line is Slugs is a film that's great for parties or for those rainy Saturday afternoons when you're looking to shut off the brain for awhile and have a good time. Recommended.