'The Echo' Movie Review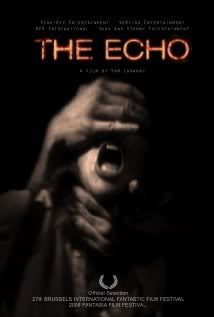 by Michael Sieber, MoreHorror.com
A typical ghost story that's not so typical.
An ex-con who has just been released from prison and is trying to put his life back together moves into the apartment where his mother died some months ago. Almost immediately, he begins hearing strange noises and seeing strange visions. His problems become worse when he sees that his neighbor, a cop, is abusing his wife and child. Not wanting to violate his parole, he is torn as to whether to get involved or keep to himself.
On the surface, it might be easy to dismiss The Echo as a typical haunted house story, but then you'd be missing out on a solid, if not somewhat predictable film that offers some real chills.
What I really liked about this movie was the fact that the main character who's getting terrorized is a 'tough guy' which is something you don't normally see in horror films; it's usually a female who is the target, so this is a nice change of pace. Jesse Bradford plays Bobby, the ex-con, and while the story tells us that he went to jail for involuntary manslaughter, it doesn't paint him as a ruthless jerk. Instead, we see a man who is humbled by his experience and is only looking to keep himself clean and move forward with his life. I thought that Bradford played the role very well, with just enough machismo and just enough sensitivity to make us care about the character.
Director Yam Laranas made effective use of the apartment building; it's bleak, grimy and very atmospheric, which is perfect for the overall tense mood of the film. And while some may classify this film as too slow, I thought the pacing was a good choice because it gave us ample time with the characters and their relationship with each other before it finally brought the hammer down on them. I've seen too many horror flicks where the characters were nothing more than cardboard stereotypes waiting to be slashed, maimed, crushed or what have you, so it's nice to actually get to know these people for a change. Also, I don't usually get scared while watching horror films, but this movie had some nice creepy visuals that actually sent chills up my spine.
If you're a gorehound then you'll probably be disappointed by this movie, while there is one bloody scene, the movie is more about the atmosphere than on visceral bloodletting.
The Echo is one of the better movies I've watched this year, and if you don't mind the slow buildup, it's definitely worth a look.