'The Mortician' Movie Review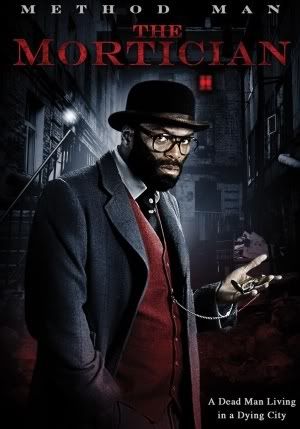 by Shannon Hilson, MoreHorror.com
Every so often, a film lands on my desk for review that I enjoy, but find really hard to classify. The Mortician is definitely one of those films. I don't quite feel right calling this a horror film or even a suspense film, because that's not really what it is. However, I do think this is something that would appeal to certain types of horror fans if they give it a chance. For now, I'm going to dub The Mortician a "crime drama with a heart" and leave it at that.
The plot follows a quiet, lonely man (expertly played by Method Man) who is a mortician by trade. He lives in a rough neighborhood populated by gang members, thugs, and other equally unsavory characters. One day, his profession finds him face to face with a little boy whose mother was brutally raped and killed by some of these gang members. Said gang members are now after the boy and it's up to the mortician to keep him safe from harm. Things are further complicated by memories from the mortician's own past that keep coming to mind as more and more details of the boy's ordeal come to light.
I'm really not sure what I expected when I popped this DVD in to give it a watch. Since it was about a mortician, I suppose I was bracing myself for a body count or a ton of death in one form or another. Don't get me wrong. There are certainly plenty of bodies since the main character works at the city morgue and there are also more than a few killings with so many thuggish characters involved. However, none of that forms the true center of this movie.
That spot is reserved for the very well-crafted figure and personal history of the mortician himself (and no, the character is never named). The amount of care that went into bringing this man to life is noteworthy and much appreciated by this reviewer. The relationships he forms with other characters throughout the film were heartfelt and intriguing. Method Man really turns in an excellent performance that impressed me and that I feel deserves to be recognized, especially since the shy, socially awkward mortician is a far cry from the characters I typically associate him with.
I really enjoyed this film for the superb character development, the top-notch writing, and the cinematography that perfectly captured the urban decay in which these people live. You truly do care about the mortician and many of the other characters in the film and you feel 100% immersed in their world. I also rather enjoyed the slow-moving pace of the film, although I do realize that some horror fans won't like that. I, however, feel it works well for this particular selection and lends it the right feel for the subject matter. Despite the pacing and relatively low-key approach, the film holds my attention from beginning to end. It reminds me of something I'd expect to see at… say… the Sundance Film Festival.
If you're looking for a blood-and-guts killfest or something that will make you wet the sofa from fear, this is definitely not for you. However, I highly recommend The Mortician if you're looking for a bit of a departure from your typical fare and want to soak up something with a little more heart that still has certain ties to the genre. If you're the type that's known to shed a tear or two over certain types of films, you may want to make sure you have a Kleenex or two handy as well. I wouldn't describe this as a tearjerker at all, but it's definitely emotion-driven and there are a couple of scenes that you'll probably find heart-wrenching. There are some really nice moments to make you smile as well.
Overall, this is an excellent film that deserves to be seen by people who will appreciate it, so if it sounds like your cup of tea, you might want to add it to your personal "to-see" list. It hits DVD February 14th, so keep an eye out!