Movie Review: The Victim (2012)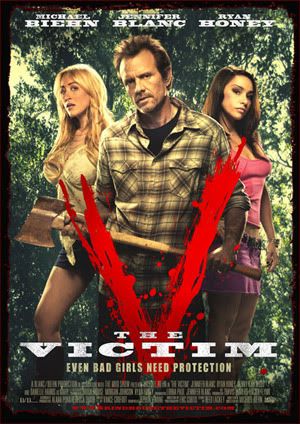 Reviewed by Marcey Papandrea, MoreHorror.com
According to films, a cabin in the woods is a dangerous thing; bad things always happen there, one way or another. This remains true in Michael Biehn's (The Terminator, Aliens, Tombstone) film "The Victim", as the cabin plays a huge role but not in the way you may thing.
The Victim is a film I have wanted to see for quite a while due to it being written, directed and starring the Biehn. I've been a life long fan of his and it was a real pleasure to meet him in person a couple of years back. I normally don't let myself get hyped up for a film but with this one I couldn't help it.
I actually steered well clear of reading too much about the plot and checking out trailers, I wanted my experience to be an 'in the dark' one and I think it worked. I enjoyed The Victim, I had a really good time with the film and Biehn certainly delivered the goods.
The plot is rather spoilery, trust me it is beneficial to go into this without much knowledge – so I'd rather not delve too deep into it. A man (Biehn) lives in seclusion in the woods, and his life changes when he gets a surprise guest. That's it - that is all I will divulge!
The Victim feels like a horror/thriller from right out of the 70's, something that you may have watched at a drive-in. It is a grindhouse style film, and I am sure that is what Biehn was going for. There are inspirations and nods in there, and it contains elements that you want to see in this type of film.
I was really impressed with the style and tone of the film, it wasn't serious but it wasn't exactly funny, I think it just managed to find a good balance. Yes it is a cheap film, and at times it can feel that way, but everyone really did put in their best efforts and elevated it.
I was impressed by the performances, with Biehn shining as he always does. He's a strong actor and a memorable one; he really threw himself into this film and still managed to deliver a good and convincing performance. Jennifer Blanc-Biehn (Wrong Cops, The Crow, The Divide) actually stole the show for me, she was really quite impressive. There is always that worry when couples make and appear in films together, but these two have such a genuine love for what they do, their chemistry is great and he brought out the best in her.
Danielle Harris (Halloween 4,Rob Zombies Halloween, Hatchet, Devil's Night) never fails to deliver, and she did a masterful job, especially during the intense and disturbing opening scene. I was taken by surprise with how good Ryan Honey and Denny Kirkwood were, their characters were certainly not easy ones and these guys nailed it.
In all The Victim is not a perfect film, but it is a welcome addition to the genre and a really solid effort from the Biehn. I truly hope he continues to make films; it is a good and natural fit for the man. I enjoyed this messed up film and I especially liked the ending, which really took me by surprise. Thumbs up for this one.