How 'A Christmas Carol' Introduced Me to Horror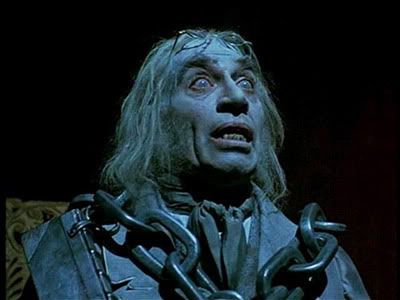 The more I think about horror and explore the genre more thoroughly, the more I really realize I've always been a big horror fan whether I knew it way back when or not. I'm one of probably a jillion people who make it a point to reread A Christmas Carol by Charles Dickens every year at holiday time (and watch several different versions of the film production). However, this year might be the first I gave it much thought as a potential horror film. I know a lot of people would argue with me there, but really. This story (along with many others from the Victorian and pre-Victorian eras) has several strong elements of horror about it. I'm a bit surprised that I never considered the matter in more depth before, especially since the cast of characters is riddled with ghosts.
However, I'm thinking my missing it for so long possibly has to do with my first actual exposure to the tale itself coming my way thanks to Mickey's Christmas Carol, Disney's contribution to the slew of Christmas Carol variants out there today. It's hard to be scared of Goofy or Jiminy Cricket even if they are supposed to be "dreadful apparitions", but then I suppose that's the point. Pegleg Pete as the Ghost of Christmas Future wasn't exactly something I'd want to hold hands with while I skipped down the street, but still. Not exactly menacing at all.
I certainly never got the impression that in their pure form, these ghosts are supposed to be scary... and you know what? They are... and they should be. After all, Scrooge is a real hard-ass. It would take something an awful lot worse than Goofy tripping over his chains before falling down the stairs and Jiminy Cricket spouting some snotty little lecture on morality to make someone like that change his ways.
I think I first "got that" in 1984 when I saw the made-for-TV version of the tale starring George C. Scott as the cantankerous Scrooge. When I was little, I avoided "scary movies" like the plague. While my young friends (who were seriously too young for proper horror movies) were watching Freddy and Jason at every slumber party, I didn't really get it. In fact, I'd make it a point to have to leave the room or put on my Walkman headphones to block out the imagined terror of it all. My friends thought I was a big wuss, but I thought they were idiots. After all, what could possibly be fun about feeling scared?
However, when I saw Frank Finlay's 1984 portrayal of Jacob Marley? Oooooooh, man. He was so horribly creepy, yet so fascinating all at the same time -- a far cry from the Goofy version of Marley I was familiar with. He was there for Scrooge's own good and probably did sincerely want to help him avoid the veritable suckfest that was Marley's afterlife in honor of the connection they used to have. However, he seemed so mean, and cold, and spooky nevertheless. Remember when he took off the bandage that was holding his jaw shut and his mouth just fell open like it did? Remember when he starts howling bloody murder because Scrooge accused him of not being real? I'm surprised I didn't have nightmares for a year. I didn't though... and not only does Jacob Marley remain my favorite ghost from A Christmas Carol, but Finlay's version of the character remains my favorite incarnation.
The other ghosts didn't disappoint me either. The Ghosts of Christmas Past and Present were equally creepy. Really, they weren't taking any nonsense from old Ebenezer Scrooge and they made it pretty clear that they considered him to be the lowest kind of dirt on their shoes because of how stingy he was. And the Ghost of Christmas Future? Yeah, he was just straight-up terrifying as anyone who's familiar with the tale knows. I'd rethink my world view, too... after a heart attack and a 6-month stint in the insane asylum to help me deal with what happened to me. Major props to Scrooge for having the big brass ones to go make his social calls the next day like he didn't go through the horror of his life the night before!
Because of my refusal to watch anything even mildly scary up to this point, I sort of didn't know what I was seeing... or why I liked these dark elements of the storyline so much. All I knew is that they intrigued me in ways I'd never experienced before. I remember going to school the next day and trying to tell all the other 10-year-olds about the amazing movie I saw on TV the night before. They all looked at me like I was nuts, of course, but really. I can't remember getting that excited about a movie before and it really set the tone for the development of my future tastes. I wanted to share it with anyone who'd listen to me and I've felt that way about that story and those characters ever since.
Of course, since that first watching of that first version of A Christmas Carol so many years ago, I've seen many others. I've also read the novella it was based on about a thousand times and was delighted to find out that the original versions of the ghosts were just as complex and disturbing. However, the realization that this was my first real exposure to horror as I know it is totally new to me. It makes me see that horror and darkness are not only parts of our lives, but of our potential salvation as humans. Without darkness, there can be no light.. or something like that.
So do you see A Christmas Carol as a horror movie? Who is your favorite ghost and why?