'True Blood' Season 4 on Blu-Ray Review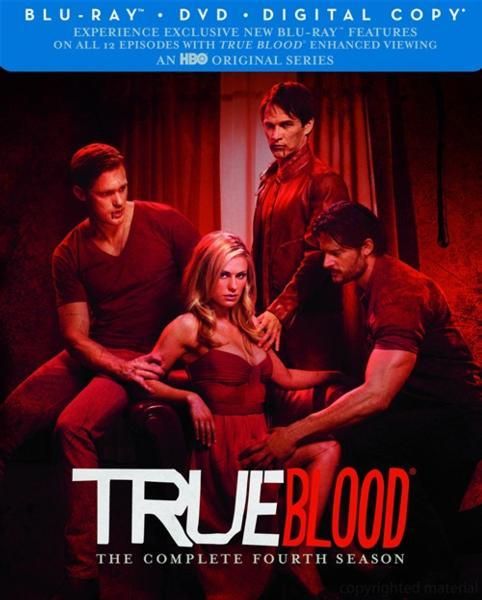 by Shannon Hilson, MoreHorror.com
We don't actually have HBO these days, but True Blood is nevertheless one of my favorite shows. Naturally, it was exciting to get a chance to check out Season 4 on DVD and review it as a critic, as it was all brand new to me. This was especially so since I'd been hearing some mixed reviews about this season in particular and was eager to form my own opinion.
Each season of True Blood always gets incredibly intricate as far as plots and subplots, so it's never an easy task to summarize. However, suffice it to say that some interesting new territory is covered in Season 4 as far as the main storylines that will please some viewers, while exacerbating others. It all depends on how you feel about your favorite Bon Temps residents and where you'd personally like to see their lives go next.
Much of what happens this season revolves around witches and Wiccans, character types that were added to Bon Temps's veritable stew of supernatural beings in previous seasons, but not fully explored up until this point. Season 4 introduces us to a powerful, but troubled witch named Marnie, a character that is central to most of the storylines this time around. Marnie, expertly played by the amazing Fiona Shaw (My Left Foot, Harry Potter), leads one of the area's local covens and we get to watch her cause all sorts of interesting trouble including bewitching the mighty Eric Northman (Alexander Skarsgård) himself.
This season, we also get to follow the new adventures of Bill Compton (Stephen Moyer) who has recently been crowned King of Louisiana. There are also more than a few plot twists involving Sookie Stackhouse (Anna Paquin) and the love triangle between herself, Bill, and Eric. You'll get to catch up with fan favorites Alcide Herveaux (Joe Manganiello), Sam Merlotte (Sam Trammell), and many others as well.
The interesting thing about True Blood to me is that on paper, each season always sounds like it's going to be a bit of a mess. The Bon Temps universe is… crowded to say the least when it comes to supernatural creatures and it's easy to get the feeling that it's just all too much. By now, we don't just have vampires and shapeshifters to contend with, but also werewolves, maenads, werepanthers, witches, demons, and even fairies. Those that have read Charlaine Harris's Southern Vampire Mysteries on which the series is based know that there are even more species than that to explore, should the show's writers decide they want to go there.
Nevertheless, each season just seems to work out as far as the plotlines and Season 4 was no exception for me. This is thanks to an amazing cast of actors who bring each and every character to stunning life and superb writing that not only creates suspense and drama, but is packed with wit and humor as well. I especially thought that Fiona Shaw's performance as Marnie was a major highlight that deserved applause.
Another thing that I think is worth noting about this season, as well as the ones that have come before, is the intelligent approach to the adaptation of the original novels. Normally when it comes to material based on a book (or a series of them), there are only two types of experiences a viewer can have if they've already read the original writings. Either you're just idly sitting there waiting for the same events to go down so you can compare because the show is exactly like what you've already read… or you're kicking and screaming because so much about the original material and characters has been changed and bastardized for the sake of "good television".
True Blood does neither of these, but presents us with a third option that I don't know that I've experienced before. Southern Vampire Mysteries readers will definitely see events they remember from this part of the series go down… but often not quite as planned. The series writers also deliberately plant red herrings that only readers will ever recognize as such. It allows those of us who have read the books to take the roller coaster ride right along with people who haven't. I have to say I really appreciated that and as a professional writer myself, I found the way it was accomplished to be quite clever.
As far as the Blu-Ray package itself, it's really pretty sweet and collectors will no doubt appreciate owning a copy. The packaging is extremely sleek and pleasing to the eye. You'll also get plenty of extras along with your crystal-clear Blu-Ray discs including inside-the-episode featurettes, audio commentary tracks, enhanced viewing mode, and a round table discussion with series creator Alan Ball and the production team. You'll even be treated to an interactive encyclopedia that allows you to brush up on the histories and back-stories of some the characters.
Overall, I thought this was a great season and I thoroughly enjoyed many of the plotlines, especially since many of them allowed me to get to know sides of popular characters that I hadn't really seen before. True Blood hasn't lost its bite yet and die-hard fans won't want to miss their own chance at adding this stunning box set to their video collection.