'The Walking Dead' 3-Disc Special Edition Review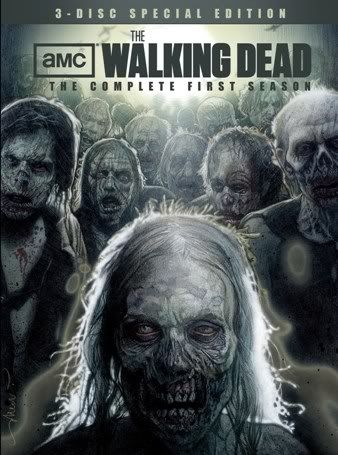 by Jason Lees, MoreHorror.com
I'm not a big fan of double dips. Yea, I have three different copies of Halloween but they go from Beta to VHS to DVD, and yes, I will be upgrading to yet another version of Evil Dead 2 next month when it hits BluRay, but for the most part, I tend to get a little mad when I'm asked to buy movies I already own just because they're finally getting a better treatment. When it's older movies, I don't get so pissy. I have that bare bones Fright Night disc and would love to upgrade to something with a commentary, but with the flopping of the remake, that just ain't happening.
Now, with Season One of The Walking Dead being re-released on DVD and Blu, I should be mad. I should feel like my old copy (old being just a few months now) was just a tease and a dollar ploy now that the new 3-disc version has come out. Well, I should, and part of me sort of does, but that doesn't mean that this new version doesn't kick some serious ass.
The old collection was good. It had a sharp picture and some decent features (mostly from the web) but nothing in the way of real meat to it. Now, with Season Two debuting in a few weeks, Anchor Bay has put out a collection that's really giving me what I want as far as the guts and gravy.
Instead of little five-minute filler featurettes, we're given an almost hour long docu that follows production through all six episodes. It's not too deep, but it has plenty of candid footage and some fun anecdotal moments. Yes, it is self serving and a bit self congratulatory at times, but anytime I get to see zombie extras sitting around between takes sipping on coffee, it just makes me giggle like a little girl from Pittsburgh. I love this stuff.
Also, for whoever was asking for it, we're given a black and white version of the Frank Darabont's pilot episode, similar to what they did for The Mist. It's a fun way to watch the episode, especially for those of us who have already watched it numerous times.
Now, for me, the reason to pick up this version was that it finally had commentaries for each episode. Darabont, whose love for the project is infectious and somewhat sad considering what happened, only appears on the track for his pilot, but the other five episodes are still good. Episode 2 features KNB's Greg Nicotero, and he's always worth listening to. It's the kind of discussion that sets the horror fans apart from the casual viewer. I don't know who else but us listens to these, but I'm just glad they record them. It gives the disc replay value that other sets just don't have.
Now, with The Walking Dead hitting Netflix, whether you want to plunk down that hard earned cash for this set really depends on how you value those special features. If you're like me and you consider a night of listening to talking heads say how much fun they had eating fake intestines something you can't pass up, then this is a no-brainer, but if you're happy with just watching the show in reruns, then save the dinero. Who knows when the triple dip will happen and they'll release a version that has the animated short films included.
Damn. When I wrote that I was kidding, now I'm thinking that they're probably saving that for the beginning of next season's DVD release. Oh, and go ahead and avoid the tin case edition with the collector's mask in it. That's pretty much all cardboard with a $1.98 rubber mask from what I hear.
Still, I don't feel suckered into buying this set at all. It's a worthy addition to my zombie library, and more than just a promo fluff edition for AMC.